Reference
Barron's Anatomy Flash Cards 3e
Our Price:

$37.50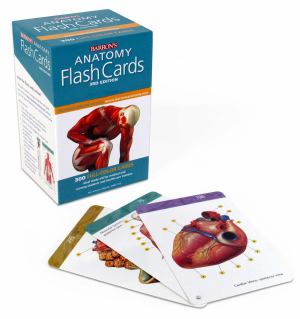 enlarge image
Product Description
Barron's Anatomy Flash Cards 3e
Ken Ashwell Ph.D.
This attractive, newly re-designed set of Barron's Anatomy Flash Cards makes an ideal study aid for medical school students, nursing students, and health care trainees. A total of 300 cards show muscles, bones, and organs, and are color coded according to their general function in the human body.
New cards featured in this set include:

Layers of skin in overview
Microscopic development of the brain
Immune system cells
Microscopic structure of vein and artery
Microscopic structure of the large intestine and stomach wall
Cross-section of spleen
Nervous tissue
An added bonus to this updated edition is Internet access to electronic color images of each flash card. Students can log on to test themselves on every detail contained on the cards, and even create playlists of particular systems or areas where they require further study. Includes a ring that can be used to change cards as needed for studies on-the-go.
ISBN 9781438077178Edition 3Binding Shrink Wrapped